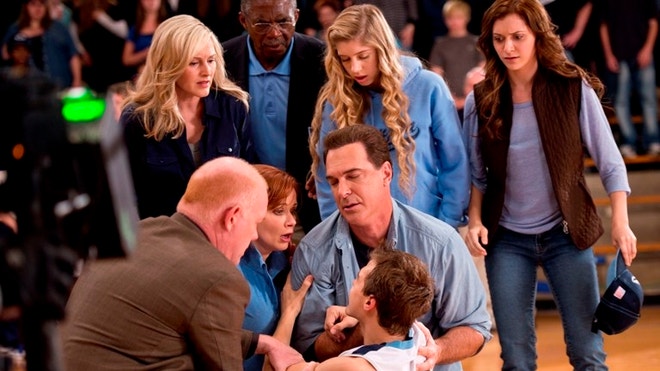 LOS ANGELES via. foxnews.com –  Two years ago biblical references were edited out of "Soul Surfer," a movie based on real life shark attack survivor Bethany Hamilton, in an effort not to alienate non-Christians. The Bible was edited back in to the final cut only at the request of the family on whose experiences the film was based.

Now "Soul Surfer" director Sean McNamara is on to his next project, the film "Hoovey," and he says this time there's no chance the Bible will get short shrift.

"EchoLight Studios (the production company) has supported my vision for everything including Bible references, because they're appropriate. The Elliott family is Christian, and so they are in the film," he told FOX411's Pop Tarts column from the film set in Dallas, Texas. "'Hoovey' is a natural story of a family that can only be told through the 'faith lens'."

Also based on a true story, "Hoovey" tells the tale of a promising high school basketball player Eric "Hoovey" Elliott, who collapses on the court from a life-threatening brain tumor. Hoovey survives high-risk surgery, and is forced to re-learn the fundamentals of life from walking and reading, to even seeing clearly. And as his mother and father teeter on the brink of falling apart amid medical bills and stress, the entire family must rely on faith, tenacity and love to get through their darkest days.

"I fell in love while reading the book (written by Hoovey's father Jeff Elliott) that first night. It's a story of adversity and challenges resolved through the perseverance and faith," McNamara said. "It can be summed up with this line: 'Faith makes it real.'"

According to the film's star, there is plenty to be gleaned from believers and non-believers alike.

"It confirms that love and trust are the greatest gifts on earth," said former "Hannah Montana" star Cody Linley, who plays the title role of Hoovey. "If you are willing to work as a team then problems turn into an opportunity for all to grow and live better. Everyone has questioned their own purpose in life, and when we deal with near-death experiences it allows us to see ourselves more deeply."

McNamara said getting faith based films off the ground is easier than it used to be.

"After the success of 'Soul Surfer' and 'Courageous,' the faith audience has come to expect well-crafted scripts and superb actors. The excellent films are good stories that happen to have a Christian message," he said.

Indeed this project is only the tip of the iceberg when it comes to EchoLight. Based in Dallas, the studio is the first completely integrated Christian film studio to offer production financing, marketing and distribution in the high-quality faith and family-friendly entertainment realm. Birthed out of the vision of Hollywood producer Bobby Downs, and his partner Chris Morrow, EchoLight is championed by  investors including residential real estate mogul Jeff Blackard and former presidential candidate Rick Santorum.

"I've always believed that art shapes culture, and culture informs politics.  This generation is more connected than any previous generation in history, consuming visual art on large and small screens daily," Santorum told us. "A small amount of light displaces a great deal of darkness, and EchoLight's mission is to apply our light to family films. By creating high quality, inspirational films, we are reinforcing the values of faith and family that make America great."

Fellow 'Hoovey' star Lauren Holly told us she's honored to be part of a film that has a positive message.

"All of us know the power of family; we all know how to root for good against evil. We feel good when there is a happy ending, especially when the story is true. It gives us all hope," she said. "And for me personally, I am proud to be in a film that I want my whole family to see, one that all of us would enjoy."

"Hoovey" is slated for theatrical release in 2014.